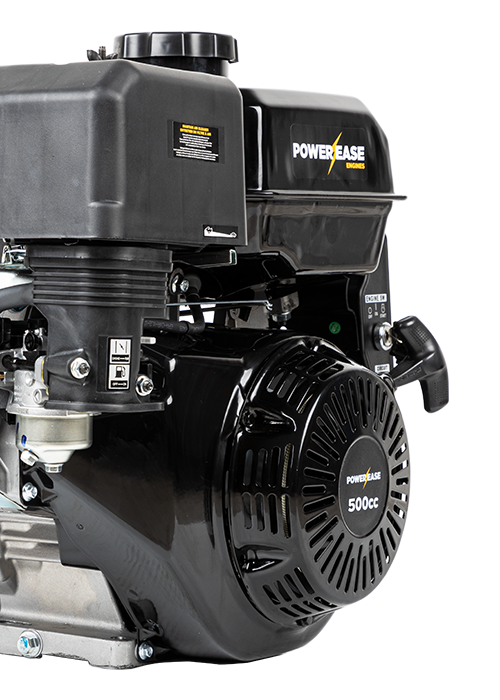 POWEREASE 500 ENGINE
The Powerease 500 is an electric start engine capable of outputting as much power as a twin cylinder engine at half the weight It includes a starter motor, electric harness and solenoid to start with a turn of a key.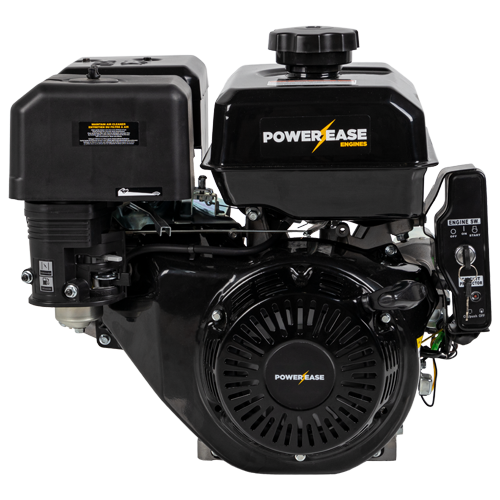 SPECS
Model:

Powerease 500

Displacement:

500cc

Net Power:

15HP @ 3,600 RPM
Net Torque:

31NM @ 2500RPM

Fuel Type:

Unleaded

Charge Coil Output:

18 AMPS
FEATURES
Powerease engines have been used by BE Power Equipment for well over ten years and have proved themselves to be powerful and reliable. Their reputation has earned the trust to be used on a wide range of power equipment.
Electric Start for the ability to get your engine running with the turn of a key.
Air cooled, 4-stroke, Over Head Valve (OHV)
design enables higher compression ratio to obtain greater power output.
Uses common SAE 10W30 motor oil to splash lubricate the components in the crankcase.
Automatic low-oil sensor will shut down the engine if the oil level drops to dangerous levels.
Fuel recommended to use is regular unleaded that is 86 octane or more. It is best to use fuel
with no ethanol, but ethanol blends of up to 10% is acceptable.
18 Amp charge coil output allows your battery to charge in addition to other components of your machine.
SPECIFICATIONS
| TITLE | SPECS |
| --- | --- |
| MODEL | POWEREASE 500 |
| PART # | 85.575.180 |
| CYLINDERS: | SINGLE |
| ENGINE TYPE | AIR-COOLED 4-STROKE OHV |
| DISPLACEMENT | 500CC |
| STARTING SYSTEM | RECOIL/ELECTRIC |
| COMPRESSION RATIO | 8.2:1 |
| FUEL TANK CAPACITY | 6.7 LITRES |
| FUEL | UNLEADED 86 OCTANE OR HIGHER |
| CARBURETOR | HORIZONTAL TYPE BUTTERFLY VALVE |
| LUBRICATION SYSTEM | SPLASH |
| OIL CAPACITY | 1.1 LITRES (1.16 U.S. QTS) |
| LOW OIL SHUTDOWN | YES |
| SHAFT SIZE | 1" STRAIGHT KEYED |
| SHAFT ROTATION | COUNTERCLOCKWISE |
| NET TORQUE | 22.8 LB-FT (31 NM) @ 2,500 RPM |
| NET POWER OUTPUT* | 15HP (11.2 KW) @ 3,600 RPM |
| DRY WEIGHT | 82 LBS |
| DIMS (LxWxH) | 18.7" x 20.5" x 18" |
| CHARGE COIL OUTPUT | 18 AMPS |